CoolMoon™ Peeling Machine
5s to Peel Off Skins Completely!
Cooking is fun but preparation is really boring and time-consuming. Now with our Peeling Machine, you can skip the tiring peeling process and jump to funny cooking time!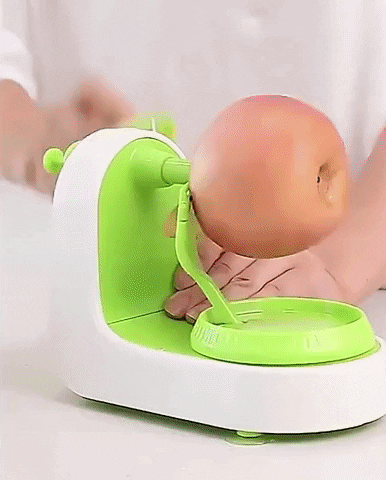 Faster and Easier Peeling
The peeling is never quick and easy like that. Just put the fruits and vegetables on this peeling machine and wait for a moment, your fruits will be ready!

No More Hand Cut
I'm sure that you all have accidentally cut your hands or scraped your skin when using a knife or traditional peeler to peel fruits. Now your hands will be completely safe as you don't need to touch a finger when peeling, this machine does it all for you!

Widely Used
This peeler is suitable for all fruits and vegetables with skin like pears, apples, potatoes, carrots.
Frequently Asked Questions
Q. Does this product have a warranty?
A. Yes, this peeling machine has 1 year warranty.
Q. Where do you ship to, do you ship worldwide?
A. We can ship our product to:
United States
United Kingdom
Canada
Australia
All countries in Europe
You can see the list of countries we ship to in the checkout page.
Q. Does it peel oranges and lemons?
A. Yes, it does.
Q. Can i order just the blades?
A. Blade is already in the peeler and you don't need to buy it separately.
Q. What material is it made of?
A. It's made from Abs plastic and Stainless steel, extremely durable and sturdy.
Q. Can I wash it in the dishwasher?
A. Yes, but not recommended, you should wash it with water.
How we fulfill your order
Over 44,249 satisfied customers.
Get a smart gadget for your kitchen!

Specifications
Material: ABS, Stainless steel
Dimensions: 7.1 x 2.4 x 5.7 inches

Care instructions
Hand Wash Only
Store In A Cool, Dry Place.
We offer FREE Shipping & Returns on all orders.
Shipping time:
United States: 1-4 business days.
Canada, United Kingdom, Australia: 2-5 business days.
If you have any issues, our customer support team is here to help via email at support@cool-moon.com or our contact form.