CoolMoon™ Portable Safety Door Lock
Always Safe While Traveling or Alone
This Portable Safety Door Lock is perfect for adding second security for your houses and it is really useful if you spend a night in RVs, hotel rooms, rented houses and many more.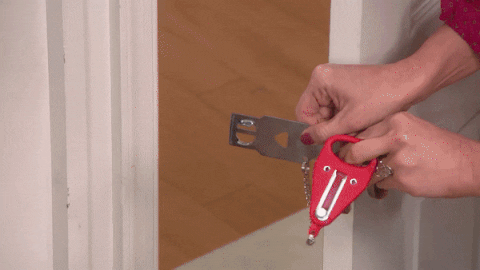 No Entry Even with a Key
Set stops silent unauthorized entry even by someone with a key, so it is a must-have essential for women who stay home or travel alone.
Widely Use
Can be carried anywhere and used in hotels, dormitories, apartments, bathrooms, and bedrooms. Portable Safety Door Lock is a unique extra personal safety device for your house, hotel, college dormitory, Airbnb rooms, anywhere!
Premium Quality & Smooth Touch
The metal plate is made of strong stainless iron and PP plastic, thick and rigid, with better performance and durability. It can resist damage or force being exerted on it.
How to use this Portable Lock
Firstly, insert the metal piece into the slot of the door lock. Secondly, close the door. And then Insert the metal rod to the hole. Finally, the portable lock keeps you safe now.
Frequently Asked Questions
Q. Can this lock be latched from the outside?
A. No. It can only be locked from the inside.
Q. Does it work on all doors?
A. No. It won't work with new age, styled, non standard doors.
Q. Is it rusty?
A. It is made of strong stainless iron. But it will be more durable if you do not put it in water.
Q. Does the lock for both sides of the door (opening inward and outward)?
A. It lock for opening inward door.
Specifications:
Material: Stainless iron and PP plastic

Dismentions: For door gap of 0.47-1.1 inches (1.2-2.8cm)
How We Fulfill Your Order
Over 44,249 satisfied customers.
We offer FREE Shipping & Returns on all orders.
Shipping time:
United States: 1-5 business days.
Canada: 2-5 business days.
Contact us via contact us form or via email support@cool-moon.com if you have any issues.