CoolMoon™ Portable Safety Door Lock
Looking for an extra layer of security while traveling or staying alone?
Look no further than the Portable Safety Door Lock! This lock is a game-changer for hotels, RVs, and rented homes, giving you peace of mind and extra protection.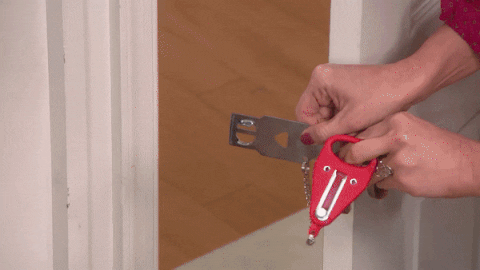 No Unauthorized Entry
The lock is so effective that it can even stop unauthorized entry by someone with a key. Perfect for women who travel alone or stay at home.
Portable and Convenient
It's not just safe, it's also super convenient! The lightweight and portable design make it easy to take with you anywhere you go, from dorms to apartments, bathrooms to bedrooms.
Easy to Use
Setting up the lock is a breeze, simply insert the metal piece into the door lock slot, close the door, and insert the metal rod into the hole. Keep yourself safe and secure with the Portable Safety Door Lock!
How We Fulfill Your Order
Over 44,249 satisfied customers.
We offer FREE Shipping & Returns on all orders.
Shipping time:
United States: 1-4 business days.
Canada, United Kingdom, Australia: 2-5 business days.
If you have any issues, our customer support team is here to help via email at support@cool-moon.com or our contact form.